A sense of calmness cloaks you the second you step inside the brightly-lit green interiors of Viet:Nom, Vietnamese Kitchen and Cocktail Bar at DLF Cyberhub, that embodies the spirit of Vietnamese culture for its sentimental patrons.
As the mixologist greeted us with a customized cocktail called 'Mahi Smash'- a concoction of fresh jalapeno, vodka, spice honey, cucumber and lime juice, we were all set to travel down the flavours of Vietnam.
We started our last meal of the day with summer rolls filled with coconut mayonnaise, fresh vegetables, vermicelli noodles, lettuce, avocado, herbs, arugula, mango and peanut sauce.
It is said that food is a lot about vision and taste and it reflects in the flavour of Viet:Nom, where Chef Vaibhav Bhargav has tastefully played with the authentic Vietnamese dishes that have been tweaked to cater to the Indian palate. Very few people know that he travelled to 5 places and spent 3 months at 'Lanterns' in Vietnam to learn the intricacy of the cuisine.
While listening to the journey of flavours, we were surprised with a colourful plate of soft and tender White Rose dim sum that had ground mung beans encased in tapioca flour jackets. The sweet aftertaste of this preparation prepared us to handle the spiciness of Crisp Tofu that had fresh tofu cubes, fried and tossed in chilli hoisin sauce, brown garlic and fresh chilli.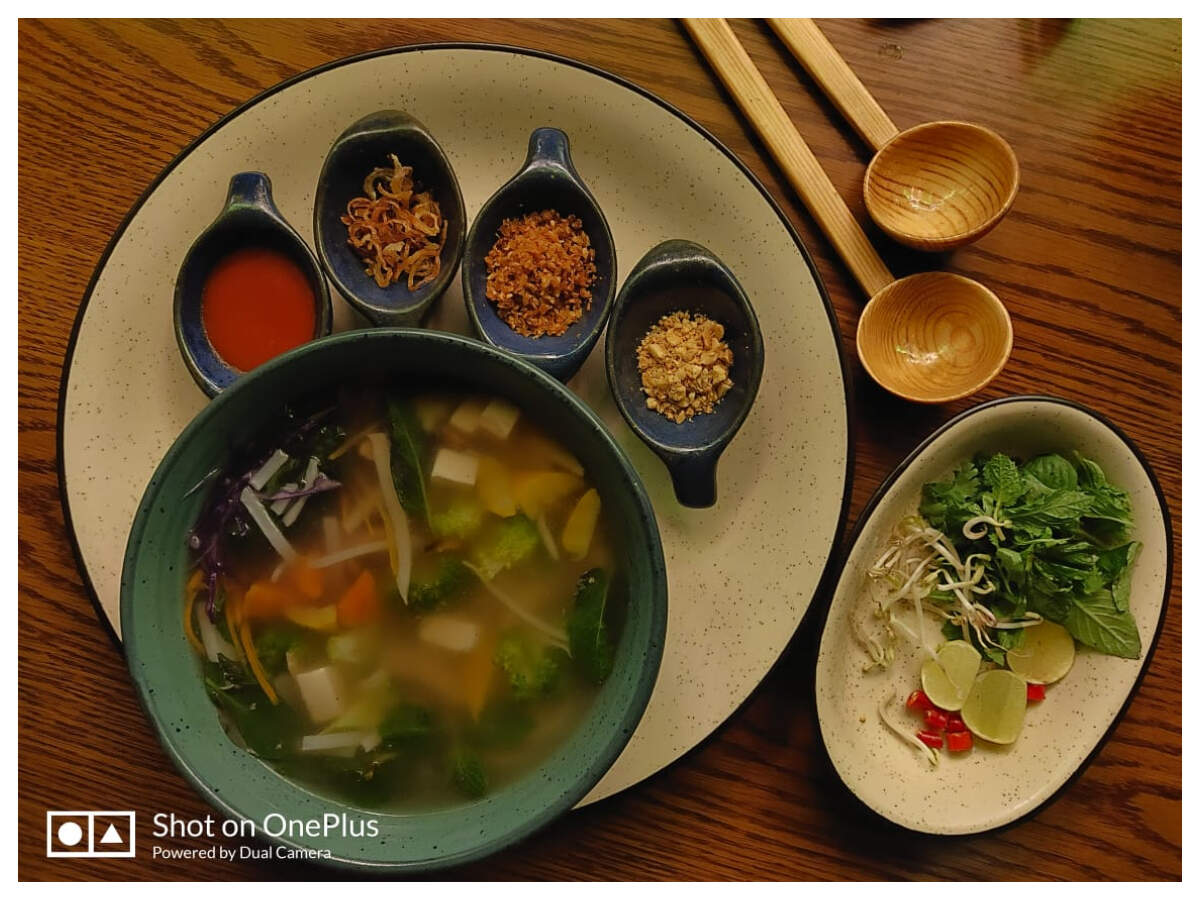 To calm down the taste buds and raised eyebrows, the enthusiastic mixologist came with what we had been expecting for long- the Vietnamese coffee. Three similar glasses with three different coffee kick brought us back to the dinner table and we were ready for the mains that had the traditional Pho-a hearty and filling one-pot meal full of vegetables, straw mushrooms and rice noodles.
After this, we tasted the Vietnamese vegetable curry, which was somewhat like a thick Thai curry with coconut cream and onions, carrots, mushroom and potato along with jasmine rice.
In the razzle-dazzle of the meal, here the desserts are also a colourful affair that consists of Pearl Jewels with Mango, Espresso Panna Cotta and Yogurt Parfait. On the recommendation of chef, we tried all three, but the reason for which we would like to go back to this place is Yogurt Parfait and (spicy) Crisp Tofu.