01
10 international honeymoon destinations under Rs 2 lakhs
Getting married, but unable to afford a killer foreign honeymoon because you're short of the moolah? Well, get set to fly because it's possible to travel even to the most exotic budget friendly international holiday destinations for under Rs 2 lakhs, including stay, food, and activities. Here, we give a complete lowdown on 10 best cheap international holiday destinations for the honeymooners without compromising on the good things and paying the price of a limb! Besides skipping the ultra-luxury hotels and resorts, and playing like a local (think of using public transport and opting for affordable eateries instead of pricey restaurants), this guide will tell you how to make the most of your honeymoon budget.
02
Greece
When it comes to holidaying in Greece, think its ancient culture, beautiful beaches, plush restaurants, comfortable accommodations, and so much more. 
Santorini 
and Athens are the most go-to islands, whereas those who love a bit of solitude and privacy, there is the less hyped Sifnos for you. May, June and early July, September and October are good months to visit Greece. To make the most of your holiday in Greece, go by the old dictum—keep it simple!
Things to do: It is wise to visit two or three islands, rather than going on an island-hopping spree for that would mean wasting more of your time travelling on ferries or waiting for them than on the islands. To explore Greece, it is advisable to leave the planning bit to experts.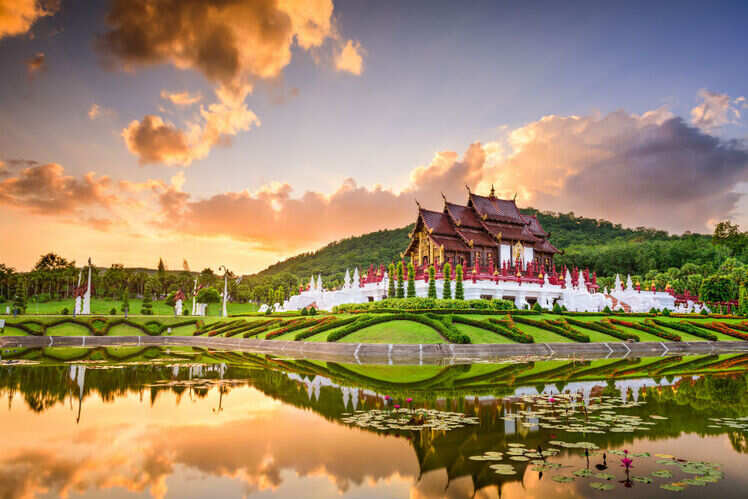 s
03
Thailand
Thailand is one of the most budget-friendly, exotic and lively honeymoon destinations. The mountain retreats, busy beaches, lonely sea shores, happening city life, animal sanctuaries and much more have something for every couple. The result is that the travellers are so much spoilt for choice that they often don't know where to head to!
Things to do: Visit the Phuket Island for its accessibility, awe-inspiring beaches, beautiful mountains with trekking trails, an endless array of tasteful accommodation options, abundant nightlife and shopping opportunities. For those, who are more into mountains and natural beauty, there is Northern Thailand to explore. There are plenty of forests, wildlife sanctuaries and majestic mountains right here.
Top attractions: Bridge over the River Kwai, Erawan National Park, Mu Koh Hong, Hat Karon, Khao Phanom Bencha National Park, Koh Muk and Tham Morakot (Emerald Cave), The Catholic Church Chanthaburi.
04
Maldives
Maldives is a world apart from what most visitors to beach destinations experience. This exotic island has remained true to its cultural and historic roots; yet, it has added a nice dash of adventure and romance to seduce the newlyweds.
Things to do: When you land in the Maldives, head to one of their beautiful resorts that would be your haven after you spend hours romancing on the white sandy breezy beaches, in the crystal clear lagoons, on sunset cruises, as well as scuba diving, fishing, snorkelling, picnicking, and on some TLC at a spa. Honeymoon in Maldives is incomplete without a candlelight dinner by the seaside. Indulge a bit on the aphrodisiac culinary preparations under the star-lit sky bearing witness to your timeless romance.
Top attractions: Fua Mulaku, Kudahuvadhoo, Mirihi Islands, Grand Friday Mosque, Nalaguraidhoo Beach, Maldives National Museum.
05
Fiji Islands
Fiji Islands are beguiling with a seriously cool factor. There are ample luxury resorts with the quintessential Fiji flair to suit your budget. Whatever you decide to zero on, it's worth spending your buck on. Plus, there are regular tours organised for the cultural aficionados. Fiji gets tourists throughout the year, and is reachable even sans a tourist visa. So, what are you waiting for?
Things to do: Book yourself an island and latch onto the opportunity to enjoy sky diving, dirt biking, river rafting, trekking, scuba diving and much more with your better half by your side.
Top attractions: Bouma National Heritage Park in Taveuni Island, Cloudbreak in Mamanuca Islands, Blue Lagoon Cruise, Beqa Lagoon in Viti Levu.
06
Mauritius
Sure, Mauritius may just be mostly about its beaches, but this one of the most sought-after beach country is certainly impressive. Both Bollywood and several novel writers have given a special place to Mauritius in movies and fictional stories respectively. This country boasts of some of the world's most unique sights. Stroll hand-in-hand with your beloved as you behold the many wonders this place has to offer. The breathtaking scenery, colourful coastline, warm hospitality and adventure activities will reward you for your decision to choose Mauritius for your honeymoon.
Things to do: Of the places to visit, the Grand Bay and Pereybère are made for meandering. There are loads of stoppage points for shopping excursions, dining and clubbing. Or else, visit the old-world Balaclava Ruins to discover its antiquity.
Top attractions: Grand Baie, Chamarel Coloured Earth, Casela Nature Park.
07
Egypt
Who has not been enamoured by Egypt's rich cultural heritage—the pyramids and the Nile? The land of the Pharaohs beckons almost every adventure traveller and patron of ancient world history to explore all that it offers. Egypt has numerous pyramids, museums, and hotspots for adventure lovers.
Things to do: You can sprawl out on the shores of the Nile or hop on to one of the cruises for a joy ride. With your partner, witness time travel as you soak up the culture and history instead of the ample sunlight available in this part of the world.
Top attractions: Siwa Oasis, Egyptian Museum, Valley of Kings, River Nile cruise, Red Sea Reef, Karnak, Giza Necropolis.
08
Bali
Bali has become one of the hottest destinations for honeymooners and rightly so. While, the majority of its population comprises the Hindus and Muslims, this island welcomes people from all corners of the world. This all-embracing place is known for its sheer affluence in the realm of almost everything that makes for an ideal holiday destination, including yoga; and it also explains why many foreign visitors have made Bali their new home! Serenading beaches, beautiful temples and stunning resorts are here to make your honeymoon a memory worth cherishing.
Things to do: Stay at unusual hotels, Dine at a live volcano: Madu Sari Mountain Restaurant, and also at a restaurant in the middle of paddy fields, Visit Bali Marine and Safari Park, Hug a honey bear at Pod Chocolate Factory and Café.
Top attractions: Tegallalang Rice Terraces in Ubud, Ubud Art Market, Kintamani and Mount Batur in Central Bali, Goa Gajah.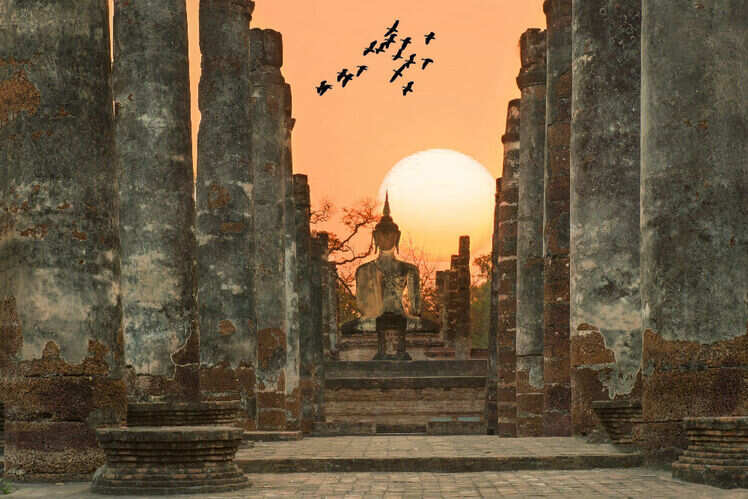 s
09
Cambodia
Cambodia emits spiritual vibes owing to the presence of UNESCO World Heritage site Angkor Wat temple in its belly. Honeymooners can stay in the nearby city of Siem Reap. In addition, Cambodia's breathtaking views will also get you a lot of Instagram-worthy pictures.
Things to do: Visit the Angkor Archeological Park and the Ta Prohm Temple. Witness the sunrise over the ancient temple architecture by booking the Golden Temple Residence for $79 per night located not too far from the Angkor Night Market, Pub Street, and Psar Chaa Market. Dine at the Siem Reap restaurant Marum, that trains local and destitute youth to be chefs, and you'll leave earning some good karma.
Top attractions: Siem Reap, Phnom Penh, Mekong, Tonlé Sap, Banteay Srei.
10
Philippines
Philippines is a nation packed to the brim with hundreds of islands each of them with tasty offerings. With your partner in tow, experience the happening nightlife and make friends with the sociable and affable locals. What more, the Chocolate Hills that are limestone sunken underwater islands and a lake volcano are here for you to explore. And like any other historically rich country, Philippines too has a whole lot of touristy places that worth visiting.
Things to do: Go for its food, fiestas, scuba diving, kite boarding, cliff diving, surfing and windsurfing all the while exploring the gorgeous marine life.
Top attractions: Huma Island in Palawan, Camiguin, Coron in Palawan, Batanes, El Nido in Palawan, Camotes in Cebu, Lake Cebu, Siquijor.
11
Budapest (Hungary)
If you're looking for the perfect combination of culture and luxury, Budapest is the most apt place for you and your beloved to be. Also fondly called as "Little Paris of Middle Europe", Budapest does not disappoint all those souls looking magical views, world-class restaurants, shopping hubs. The Hungarian capital is also replete with historical points of interest telling tales about its 1000 year old history.
Things to do: Honeymooners can talk a walk to the garden of Szent Park along the fountains. Couple seeking privacy can head to the Buda hills and hire a bike to enjoy the enchanting views, visit the stalagmite caves, relish a nice meal at one of the restaurants and much more.